Atlanta Linen Rental
Elite Event Rental has a tremendous selection of high-quality table linens from a number of different vendors. With over 30,000 quality linens in stock, we will have you covered in style. We have far more coverings, napkins, and linen products than can be displayed here, so call us today at (678) 744-TENT to get specifics on the dimensions, shapes, colors, and fabrics we can supply.
If you don't see the size or color you need, please call us to inquire. We offer custom solutions upon request.
Colors We Rent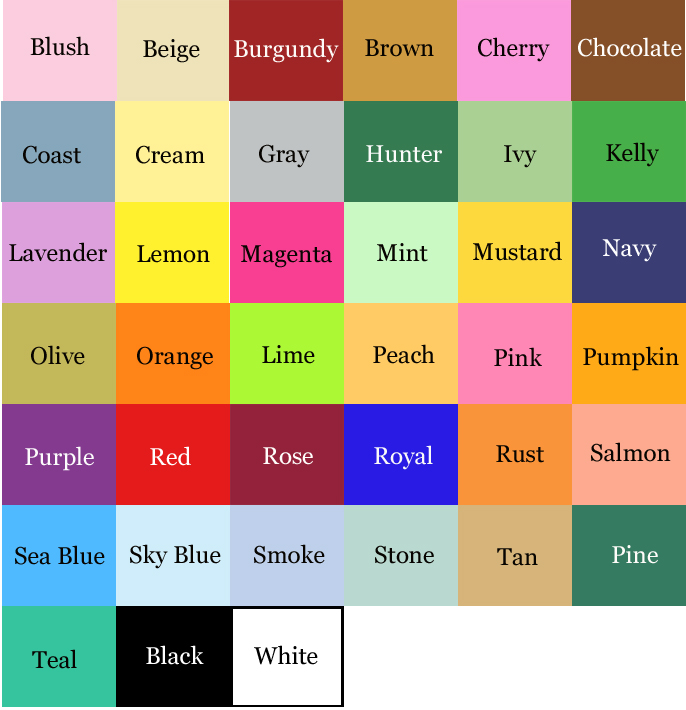 Sizes and Prices
Product #
Description
Size
Price/Day
Round
08001190
Solid (for 30″ Table)
90″
$12.00
08002190
Solid (for 36″ Table)
96″
$14.00
08003190
Solid (for 48″ Table)
108″
$16.00
08004190
Solid (for 60″ Table)
120″
$18.00
08005190
Solid (for 72″ Table)
132″
$20.00
Rectangle
08006190
Solid (for 5′ x 30″ table)
60″ x 120″
$12.00
08007190
Solid (for 6′ x 30″ Table)
90″ x 132″
$16.00
08008190
Solid (for 8′ x 30″ Table)
90″ x 156″
$18.00
08009190
Solid (for 8′ x 48″ Table)
108″ x 156″
$20.00
Square
08010190
Solid
72″ x 72″
$12.00
08011190
Solid
90″ x 90″
$14.00